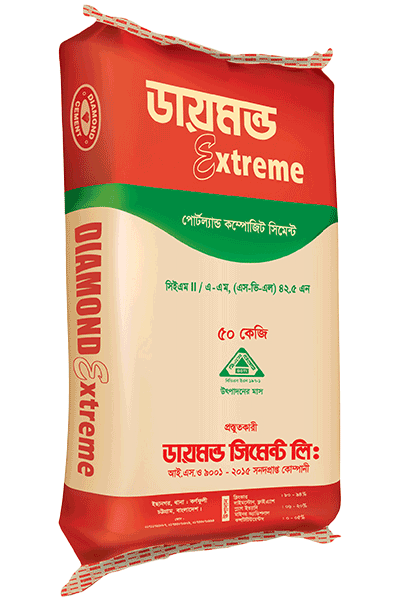 Specification & Composition
BBDS EN 197-1:2010,CEM II/A-M (S-V-L) 42.5N.
Clinker &nbsp : 80-94%
Slag,Fly Ash& Limestone : 06-20%
Gypsum : 0-5%

Benefits of Diamond Extreme
Increases Functional Strength of Concrete-
CEM-II/A-M which is a cement consisting of Clinker, Gypsum, Pulverized Fuel Ash (PFA), Blast Furnace Slag and Limestone designated by the recommendation of BDS EN 197-1: 2010; CEM -II/A-M (V-S-L), 42.5 N. PCC is the most suitable cement for constructions in Bangladesh. CEM-II /A-M contains 80-94% Clinker, which is substantially higher than CEM - II/B-M containing 65-79% which provides us extra advantage in strength development and better of concrete performance.

Increases workability
Concrete mix with Diamond Extreme generally requires less water usually between 5 & 10 % by comparison with OPC mix. gives higher strength. PFA & Slag particles work like a ball bearing around coarse cement particles. This increases the workability & eases placing of the concrete. PFA & Slag act like a plasticizer.
Improve fresh concrete properties.
Concrete manufactured with Diamond Extreme, produces lower permeable and denser concrete, which does not allow penetrating water or air inside finished concrete. This also supplements the resistance to Sulpahate and Chloride attacks
Optimum Early Strength
Application
Commercial ,Industrial & Residential High-rise Structure.
Ready-mix Concrete ,Bridge ,Flyovers ,Airport etc
Reinforced Concrete Elements & Pretension Prefabricated Applications
Special projects requiring low hydration heat
Special project concretes
Pile, dam & deep foundation.