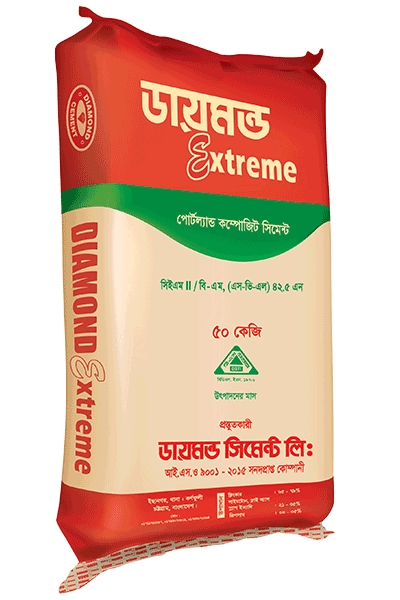 Specification & Composition
BDS EN 197-1:2003,CEM II/B-M (S-V-L) 42.5N.
Clinker &nbsp : 65-79%
Slag,Fly Ash& Limestone : 21-35%
Gypsum : 0-5%

Benefits of Diamond Extreme
Reduces heat of hydration which protect cracks.
The Pozzolanic reaction between pozzolan and lime generates less heat, resulting in reduced thermal cracking when pozzolans are used to replace Portland cement
Long term strength in concrete-
Diamond Extreme gives strong & durable concrete as compared to other cements in the markets As this cement contains fewer amounts of alkali, magnesia & free lime, it gives long term strength & durable concrete.

Increases workability
Concrete mix with Diamond Extreme generally requires less water usually between 5 & 10 % by comparison with OPC mix. gives higher strength. PFA & Slag particles work like a ball bearing around coarse cement particles. This increases the workability & eases placing of the concrete. PFA & Slag act like a plasticizer.
Improve fresh concrete properties.
Concrete manufactured with Diamond Extreme, produces lower permeable and denser concrete, which does not allow penetrating water or air inside finished concrete. This also supplements the resistance to Sulpahate and Chloride attacks
Optimum Early Strength
Application
Mass Concreting and all types of RCC structures.
Commercial, Industrial & Residential structures.
High rise building.
Submerged and underground structures.
Pile,dam & deep foundation.
Reinforced concrete elements& Pretension prefabricated applications
Bridges & flyovers.
Marine Structure.